Roman Kikta speaking @ Oulu Finland's Business Kitchen Event Jan. 22, 2014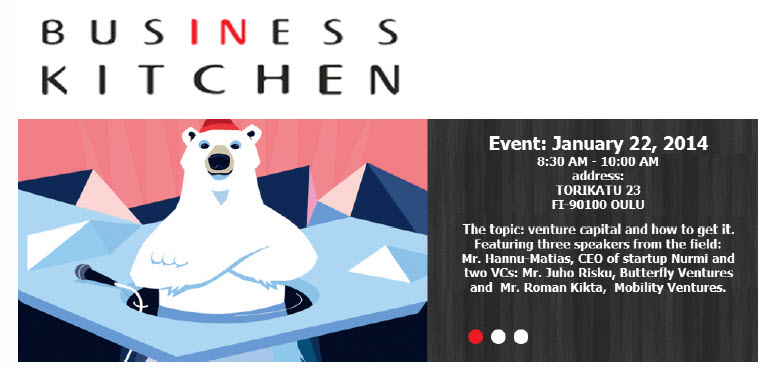 "Business Kitchen" sponsored by the University of Oulu, Oulu University of Applied Sciences, and the Vipuvoimaa EU:lta  was born out of the necessity of getting new business activities into the Oulu region, a city in the northern Scandinavia. The name has the symbolic meaning of preparing and cooking, not only food, but new businesses as well. It combines the resources in the area to help and support entrepreneurs and "would-be" entrepreneurs in the best possible way. Oulu is well known as one of the world's leading centers in wireless technology, and for its blooming IT, health tech, and gaming industry. Oulu, is also ranked as one of best cities in the world for start-up companies by the Fortune magazine (2012). 
The topic of Business Kitchen Breakfast for January 22nd 2014  is venture capital and how to get it. Featuring three speakers from the field i.e. former CEO of a startup Mr. Hannu-Matias Nurmi and two VCs, Mr. Juho Risku from Butterfly Ventures and Mr. Roman Kikta from Mobility Ventures.
Timetable:
8.30 Breakfast is served
9.00 Mr. Hannu-Matias Nurmi  "Successful Exit without  a Business Plan or Strategy?"
9.20 Mr. Juho Risku "VC investment decisions and factors affecting to them"
09.40 Mr. Roman Kikta  "The Road to Funding from a VC's Perspective"
10.00 Q&A
The event will be held in Business Kitchen, Torikatu 23, 4th floor. It is organised in cooperation with BusinessOulu.
Registration by 19.1. here