Roy Gunter to Speak at The i7 Summit in Paris on Oct. 12, 2012
i7 Summit
is a global conference on Technology, Innovation, Entrepreneurship and their impact on Society.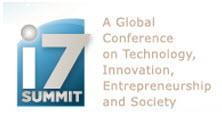 The themes this year are 1)  "Empowering SMEs and Entrepreneurs", 2)  "Technology driving social innovation",  3) "Sharing values to create value" 
The conference has a unique edge –poised on the dawn of open innovation and in the aftermath of the deepest economic rethink since the Great Depression. The message of i7 Summit is that as we stand facing today's challenges, our capacity to innovate, share value and exceed expectations is vital.   The conference takes place at
Les Fontaines
, 19th century Château and corporate events center north of Paris. Offering top of the range premises, Les Fontaines is a spiritfull location where ideas come into shape and boundries fall. The most important think tanks in world have gathered there to benefit from its extraordinary "Plaisir de vivre".