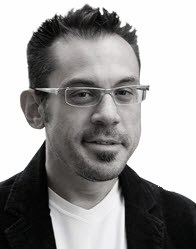 Leonard J. Brody is a highly respected entrepreneur, venture capitalist, best-selling author, and two-time Emmy-nominated media visionary. He has helped raise millions of dollars for start-up companies, played a role in one of the largest Internet IPOs in history, and has participated in the building, financing, and/or sale of five companies. Leonard has served as a Senior Advisor to Mobility Ventures on digital & social media since the firm's inception.  
As one of Canada's leading technology forecasters and business strategists, Leonard acts as an advisor to venture capital funds worldwide, and has counseled several companies including the Associated Press, Alliance Atlantis, and MTV Enterprises. He is currently the President of Clarity Digital Group, one of the largest online news conglomerates in the world. 
Much critical acclaim has followed him in his endeavours. At
Onvia
, where he was part of the initial executive, the company was voted Canada's number one start-up in 2000 and subsequently closed a $240 Million IPO on NASDAQ. In 2004, Leonard co-founded, and was CEO of
NowPublic.com
, which is a a pioneer in the field of citizen journalism. The company was named as one of the top 50 websites in the world by Time Magazine. NowPublic.com was also inducted into the Newseum in Washington and was recently acquired by the Examiner/ Clarity Digital, a wholly owned entity of the Anschutz Corporation. Currently, Leonard holds the title as President of the Clarity Digital Group that is responsible for overseeing one of the largest online news conglomerates in the world, including
Examiner.com
and
NowPublic.com
. The two combined share over 20 million unique visitors a month and exceed 200,000 contributors.
Leonard is also a Founder and Principal at
Growth Labs
, one of Vancouver Canada's leading accelerators, and had previously served as an advisor to  venture capital fund
Genesis Campus Funds
in the US and others in Europe and Asia. He is a board member and/or advisor to several companies including Infowave, Sonic Foundry, Derby County Football Club in the English Championship, CanWest Global and Alliance Atlantis. Leonard is currently a Senior Advisor to the Canadian Ministry of International Trade and a Director of Canada's largest technology association, CATA.   He is a Founding Member of
CeBI – Canadian E-Business Initiative
, led by the Canadian Chamber of Commerce and Industry Canada.  Leonard was one of the 35 members of Eteam Canada and a Member of the Board of Directors and Board of Governors of ITAC, Information Technology Association of Canada. 
A highly sought-after public speaker
 on business leadership, innovation, and competitiveness, Leonard combines a powerful delivery, razor-sharp wit, and cutting-edge content in his presentations.  He has lectured at universities and conferences throughout the world, including as Keynote at leading industry events such as Softworld, The Warrillow Summit, Internet World and ISPCON, the Profit 100, eWorld, and COMDEX.  He is co-author of the best selling books, "
Innovation Nation: Canadian Leadership from Jurassic Park to Java
" and "
Everything I Needed to Know About Business…I Learned from a Canadian".