Business Owners Using Cartwheel Register for Checkouts
Dallas Morning News:  Dallas small business owner Roshi Muns has used various cash registers over the years to simplify the checking-out and accounting process. Nine months ago, she decided to give a new, mobile-based system called Cartwheel Register a try at her shop, Society Bakery, on Lower Greenville Avenue. Calling it a seamless and easy transition as well as a money-saving move, Muns recently switched to the Cartwheel system at the bakery's second location in Medical City Hospital.
She says she's happy she no longer has to worry about upgrading and buying new checkout equipment. "It's refreshing to think there could be a different and better way," Muns said.
Cartwheel Register is a product of Deep Ellum-based Tantrum Street, which is competing in a crowded mobile payments industry. And the market is growing as more retailers and small businesses switch from expensive point-of-sale systems to mobile registers.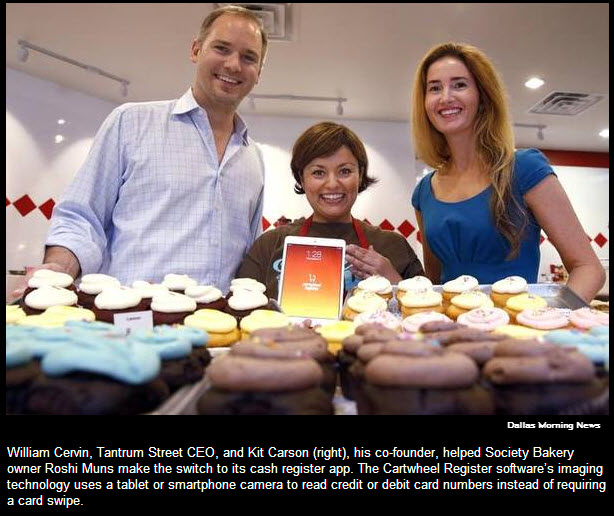 While only 9 percent of retailers use mobile point-of-sale systems, 45 percent said they plan to implement one in the next two years, according to the 2014 POS/Customer Engagement Benchmarking Survey by Boston Retail Partners.
Lots of companies offer mobile cash registers using tablets or smartphones. In the last few years, Square has become popular for its white card-reader dongle, which is popular with food truck merchants and other independent retailers.
Last month, retail behemoth Amazon entered the competition with its Amazon Local Register service, which also comes with a card reader. Amazon introduced a promotional rate of 1.75 percent per card swipe that undercuts other competitors. Fees range from 2.5 percent to 2.9 percent per swipe.
Cartwheel Register charges 2.6 percent plus 24 cents per transaction.
Tantrum Street founders point to one major factor that separates Cartwheel Register from the crowd: The platform does not require any hardware or accessories such as a credit card swiper.
"We really don't hear 'Oh my gosh, why don't you have swiper?'" Tantrum Street CEO and co-founder William Cervin said. "We hear, 'That's cool.'"
Cartwheel Register is a software-only system that uses an iPhone or iPad. (The software will eventually be available on Android and Windows phones as well.)
The Cartwheel Register software's imaging technology uses a tablet or smartphone camera to read credit or debit card numbers instead of requiring a card swipe.
For data protection, the software uses encryption and a method called tokenization, which essentially substitutes sensitive information with randomly generated numbers. In addition, card information is never stored on the tablet or smartphone.
"Security is the main priority for us from the ground up," said Cervin, whose previous experience includes stints with the Air Force and the secretary of defense at the Pentagon.
Tantrum Street ran a six-month pilot program with a dozen or so merchants in Deep Ellum and surrounding neighborhoods. Cartwheel Register became available as a free app in early May.
The startup, which raised nearly $3 million in seed funding, is soliciting larger investors in another fundraising round. Investors include Roman Kikta of Addison-based Mobility Ventures. Kikta also sits on Tantrum Street's board of directors.
Tantrum Street is not disclosing the number of Cartwheel Register users, but Cervin said many of its customers are based in Texas and include boutiques, food trucks and retailers.
David Butterfield, director of business development at Tantrum Street, said Deep Ellum merchants are strong supporters of Cartwheel Register.
The startup recently hired a director of marketing to ramp up its outreach efforts nationally.
Muns said Cartwheel Register has made the back-end accounting and reporting process easier at Society Bakery. Cartwheel Register also gives her insights into her business. The platform sends her an email report daily, outlining sales and fees. The report details the most popular items, number of transactions and the profit margin for each item.
"There's a lot of different ways to sort it," said Muns, whose cupcakes were voted one of the top 10 cupcakes by The Ellen DeGeneres Show. "For me, I use it to see what the top sellers and the worst sellers are, and tailor the menu according to that."
Cartwheel Register's per-transaction fee is lower than what Muns has paid to competitors in the past. In addition, Muns said the platform allows her to send email receipts to her customers. Muns estimates she has saved about $6,000 so far.
Muns wasn't planning to convert to Cartwheel Register at the bakery's Medical City location because she had just bought a new cash register. But a few weeks ago, she was faced with having to spend extra money for the machine. "We haven't been able to take debit for the last few weeks. It turns out they want us to buy a $400 swiper," Muns said. That was the breaking point: "This time is good as any. I just needed an iPad and that was it."